FINALLY!!!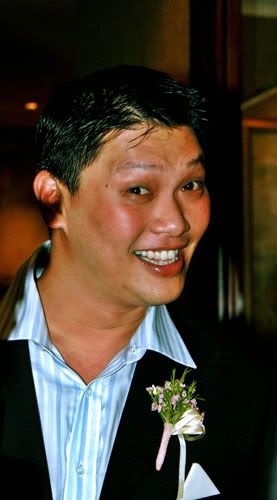 The BIG DAY came for my dearest Alex & Chol Phon after 5 long years of courtship.
They met during a 'mamak' session back when Chol Phon was still studying at Sunway College. They were introduced by a common friend & after a few weeks later, Alex finally gathered his courage to ask Chol Phon out. Hehehe… Alex is a big guy but everyone who knows him will say that he's got a soft heart. He's truly a Gentle Giant.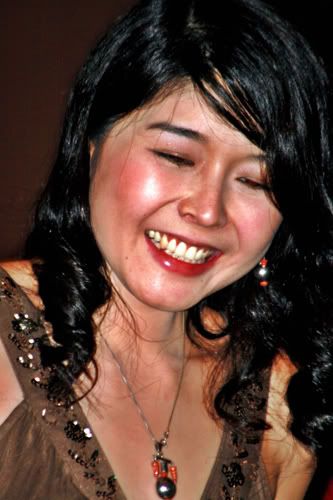 Alex is from Malaysia while Chol Phon is from a little country called Kyrgystan. Hence, the tagline I used for this blog. Chol Phon's family flew all the way to Malaysia specially for this wonderful occassion.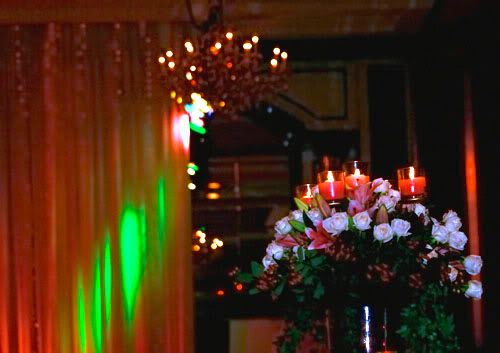 Their wedding reception was held at Le Meridian Hotel, Kuala Lumpur on 29th July 2006. I was very amazed at how beautiful the decoration & lighting in the ballroom. The whole surrounding was very subtle & soothing with red, green & pink hues. Just perfect for a wedding dinner.
The date was chosen in conjunction with Chol Phon's birthday. Our dearest Alex gave her a lovely surprise by singing a song to her while on stage. Everyone of their close friends cheered Alex on during this performance. It was rather fun & yet heartwarming moment for all of us.
This is the first time I used my new camera on such events, so there wasn't many nice photos due to the absence of an external flash. I was also pretty shy to act like a paparazzi on their wedding celebration, especially when there were other professional photographers around doing their job. But I hope these pics will serve both Alex & Chol Phon good virtues on this memorable day.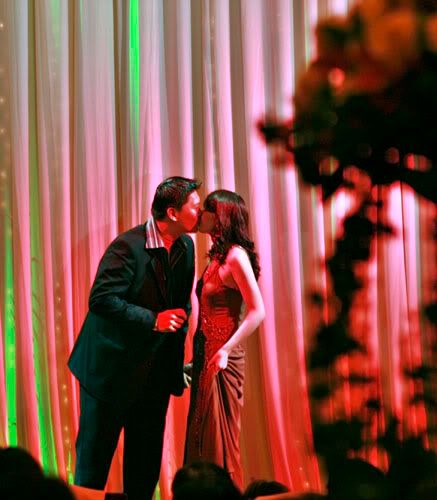 Romantic Moment
I pray that this bond of love will be forever strong & fruitful. Both Alex & Chol Phon have been there during my ups & downs. Thank you so much for such an invaluable friendship!
Remember to subscribe to our RSS feed. TQ!