Since my return from Layang-Layang, I've decided to have a new addition to my body tattoo. Well… actually… TWO additions. First one is a continuation of my old seahorses tattoo. Second is a total new design behind my waist.
Here is Eddie, my tattooist from Borneo Ink, using his creativeness in designing the perfect tattoo just for me. I knew Eddie from an old friend back in 2002. He did his first piece on me then, which was the pair of seahorses on my back. Later, he did a reconstructive touchup on my Fiery Kriss which is on my left arm.
It was a pleasant coincidence that Eddie's from my home-state, Sarawak. What more to say when I found out that his younger brother, Simon, was my college mate back in INTI College Sarawak. (but I never got to know him personally until I met Eddie) In addition to this great coincidence, Lina, his younger sister was my highschool mate back in St Teresa, Kuching. Both Simon & Lina are also two very talented members in Borneo Ink. (Simon did darling Francis' tattoo back in 2002) Yup… you can call it a "Family Business" at this stage.
Eddie started by designing & drawing out the figures on a piece of tracing paper. He never fails to amazed me with his agility & accuracy while doing the sketches.
I wanted a Chinese character of my family name to be tattooed in between my pair of seahorses. Another will be a pair of hammerhead sharks behind my waist. (I'll explain the meaning of each of my tattoos in another blog)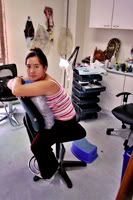 I'm getting ready for the PAIN. Borneo Ink's tattooing room is like a dentist room. Very brightly lighted and clean. I always feel safe being here without having to worry about deadly diseases. One can even fall asleep with the droning sound of the tattooing machine. He gave me a small little pillow so I can sit in this position throughout the whole process with more comfort. Well… it helped when he gave me a few chances to stretch in between short breaks.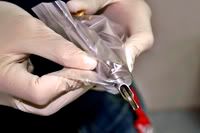 Eddie prepares the needles into a tattooing machine. He normally prepares his tools infront of his client to ensure them that he's using fresh new needles and ink casings. I like him a lot cos he'll answer all my stupid questions down to the technical details of what he's doing.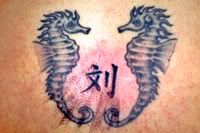 This is how my Family Surname looks like now in between my Seahorses. It took only about 10 mins to complete as it was pretty small and easy to do.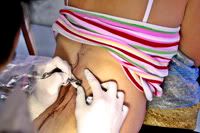 Next, my two hammerhead sharks behind my waist. As I'm pretty ticklish around my waist area, this process was a tinie-bit more uncomfortable than my other tattoos done before. However, Eddie managed to tattoo me in such a way that he's minized the pain to a minimum degree. Phew…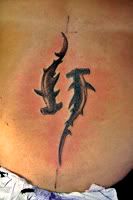 Finally, the hammerheads are completed without a glitch. I was a little surprised at how 'big' the tattoo looked but am pretty amazed with its beauty.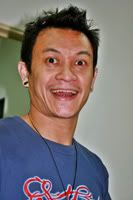 Many thanks to Eddie once again for doing such a wonderful job on my new tattoos. Now I hope they'll heal fast in time for my trip to Bali as I'll be diving there with darling Francis pretty soon. P/S: This is a photo of Eddie making a silly face. Hehehe… he normally looks more "decent" than this.
Remember to subscribe to our RSS feed. TQ!