10th November 2007… Our Wedding Day…
I woke up at 6am, showered & took a very light breakfast of MILO drink with some biscuits. While I was in the kitchen, I saw mum has prepared one of the "chee mui"s game. More on the games later…
Was I nervous? Hmmm… I don't remember being nervous. I guess I was more excited & a little anxious.
Darling Francis called me at around 7am to wish me "Good Morning". The nite before, he stayed over at a rented service apartment with the rest of our flown in friends. Another reason he called was to check about breakfast. Hmmm… He's never hungry this early. This is the 1st time!
My make-up artist came to my house at 6.30am. She started work on both mum & mother-in-law first. The sky outside was clear & blue. Wonderful! Our prayers answered! Thank you, dear Lord.
My "chee mui"s arrived my place at 7.30am. I was having my make-up & hair done. Suddenly, my home was filled with wonderful noises of celebration.
The "chee mui"s immediately got busy, preparing all the "tests" for the groom & groomsmen before they are allowed into the house to get the bride.
"Nowadays, the bridesmaid will have most fun during the picking up of the bride. Early in the morning, the groom and the groomsmen will decorate the cars and drive them over to the bride's home. At the door, the bridesmaids will prepare a lot of tricky questions for the groom to answer. The groom not only has to answer all the questions, he also has perform certain acts such as doing push-ups to show that he's strong enough to take care of the bride,or sing out his love for the bride in front of many people. The groomsmen will help the groom to pass all these tests. The last test is a financial test. The groom has to pay the bridesmaids some 'red packets' [good fortune] as gifts, then the groom and his groomsmen can enter the house and greet the bride." – Chinese Poems dot Com
When darling's congregation arrived my family's apartment compound, the "chee mui"s lit 2 long rows of firecrackers from the apartment's balcony to greet them.
Photo by Mike D/Kim C
My very dedicated "chee mui"s have been planning their naughty strategies since a month ago. They were constantly debating which test will be the hardest, whether the darling is willing to perform these tests & whether I'll approve on each test to be applied. My heart really goes out to them. Thank you so much Vivian, Jennifer, Kim, Marianne, Lynette & Adeline Ten (sorry both of u couldn't make it to Kuching). Here's the list of their devious plan:
Well… this was originally thought to be the toughest test of all. This idea came from me. Hehehe… I've planned the wedding in Kuching such that the elements of Sarawak can be seen in the details of the planning. So, sago worms are one of them. You'll see more of the other little details in my next blog…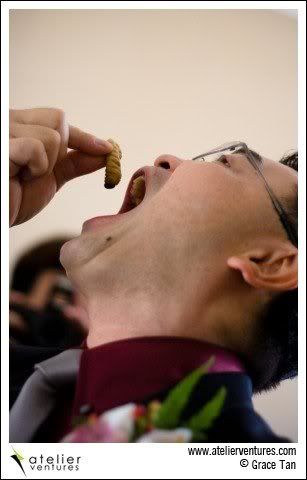 The "heng tai"s downing the sago worms. Photo by Marianne Bones
I was seating alone in my bedroom, all dressed up & prepared to meet my groom, when suddenly I heard Mike Tjoa's exclaiming "wah lau, eh!" outside the main door. I started laughing all to myself, imagining the horror in the "heng tai"s faces after seeing the worms. Then all went silent… Mins later, Jennifer came into my room & shockingly said, "They downed the worms in split seconds! They were so fast! Hahaha… " Her eyes were big & she said it with full dramatic hand gestures. I couldn't help but laughed even more.
The "heng tai"s had to pick 2 pairs among themselves for this hilarious test. Each pair will form a "poll" and a dancer. The dancer will have to dance around the "poll" to I'm Too Sexy by Right Said Fred played at the background. My brother, Tim, took out his amps into the living room just for this song! Hahaha… I couldn't help but laughed out loud (alone in the room again) when the song started. Later, mum came into my room with really flushed cheeks. She sat next to me and said, "I had to come in here for a break from all these laughing" said mum while taking a long breath. After 1 minute, she stood up & went out again, not wanting to miss all the fun.
MikeT as dancer while Peter as the designated "poll". Photo by Marianne Bones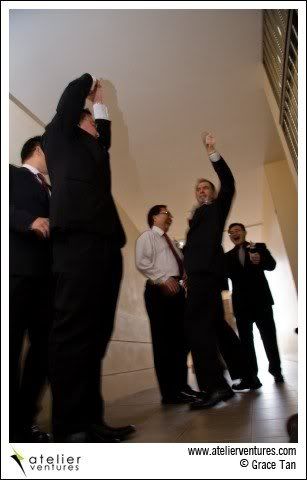 MikeD the dancer going around Raymond, the poll.
Well… There's a video taken of the dance which I've yet gotten from Marianne. So stay tuned & will be posting it up pretty soon! But be warned! You'll laugh your head off if you're not prepared!
Darling is never good with words. He's only sed he loves me no more than the number of fingers on one hand throughout our dating period. What can I say?
He's more of an "action" type of guy. He's been showing his love for me through little gestures such as buying our 1st Christmas Tree to surprise me. I was talking about how I'd want to get a Christmas Tree for our apartment & he pretended not to listen. One day, sometime near to Christmas Day, I came home exhausted from work to find our apartment dark but glowing. He was sitting infront of the TV, pretending nothing's going on. Initially I was so tired & curious at his weird gesture that I totally didn't notice the huge Christmas Tree glowing next to me! Yes… I was shocked when I turned to look around me. It was a beautiful moment. Sigh…
There was a time when he actually 1st bought me a ring. Just a simple & cheap red crystal ring. I remembered how awkward he was when handing me the ring. Hahaha… He didn't say much but I knew he's just shy.
Everyone gathered in my room while darling & gang were outside by the window.
Okay… back to the test. I was hoping the "heng tai"s could help him out. I put my bet on Raymond, actually. Tsssk tsssk tsssk… Let's just say this test was the toughest for z boyz that morning!
My dearest cousin, Leonard, negotiating on the "chee mui"s behalf. Both photos by Marianne Bones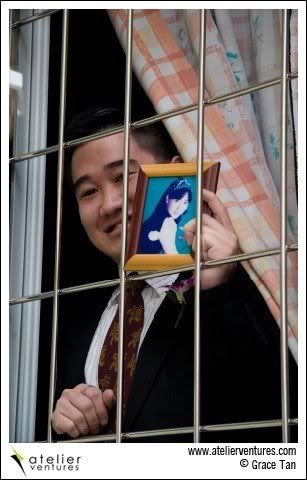 Cousin Leonard by my bedroom window with my photo
I had to thank my cousin, Leonard, for being there with the "chee mui"s. He helped liven up the scene & made everyone laughed so much till our stomachs ached. At one scene, the men outside claimed that it's hard to come up with something romantic & meaningful in such a short notice. In the speed of lightning, cousin Leonard saw my photo in a table frame, took it & shoved it out the window crack & said, "Nah! This photo of Asther should be inspiring enough for you to come up with something now!" It caught everyone by surprise. It was soooooo briliantly funny!
To strip down to NOTHING (idea by Vivian's mum!)
Yup… STRIP! Hahaha… But the "chee mui"s were kind enough to provide the men towels. So, the victim actually offered himself to help darling. I'll let the photo below tells the story.
MikeT getting to it! His compadres trying not to look while covering him.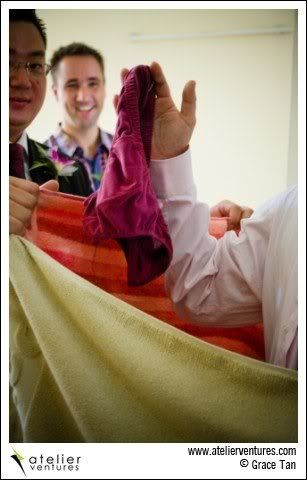 Here's the red underwear photo I promised.
He was actually wearing a red underwear from what I saw in one of our friends album. But I have not gotten dat photo yet. Will upload dat up later. Hahaha…
 Updates: See photo above. MikeT was very color coordinated down to the underwear since our wedding color theme was maroon red. Bravo!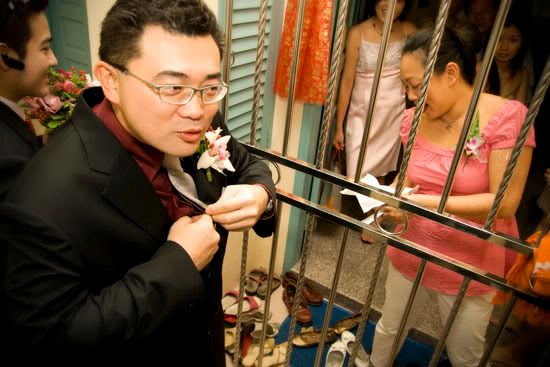 This was an easy task… Darling had gazillion of body hair & all he had to do was reach into his chest area & pull some hair! Hahaha… Photo by Lim Eng Hoo
In order to do that, darling had to put on lipsticks & then imprint his kiss on a piece of paper. Here's how it looked like…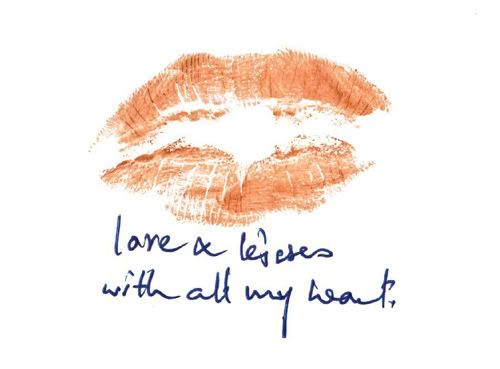 Finally… the ang pow negotiation with the "chee mui"s. I was told that they had to close the door at darling for failing to comply to their wishes. I was getting pretty anxious at the time cos we're supposed to leave for the church pretty soon. Thankfully darling didn't give up so easily.
Luckily my "chee mui"s and darling came to an agreement.
So, they finally let darling into the house. Photos by Marianne Bones
It was a beautiful relief to see darling peering at my bedroom door. It was my most memorable & meaningful moment. Later, when I asked darling, he said the same thing! I guess both of us were just so anxious to be together again that day.
He came in & knelt infront of me. Gave me the hand bouquet & gave me a looooong kiss (due to the photographers' requests).
Okay… that is all for now. Next blog will be the church & civil ceremonies. Stay tuned!
Remember to subscribe to our RSS feed. TQ!